We are an innovation in the field of energizers for electric fencing: Meet the modern smart farm fencee
We offer our clients innovative energizers and a complete remote control system for electric fencing. Now, you can control your fencing comfortably from anywhere in the world with fencee smart farm.
Unlimited remote control of electric fencing? - that's how new technology works
Under the fencee brand, top-quality complete systems for remote monitoring and control of electric fencing have been developed in the past. Until now, the smart farm system has worked with the help of radio transmission, up to a distance of 30 km. We now present a world-unique solution. You can control and monitor your electric fences with animals or fences to protect your harvest or grounds from a mobile phone through the fencee Cloud application or from your computer's web interface. All you need is an internet connection. Wherever you are in the world, with single click you will have your electric fencing constantly and conveniently under control.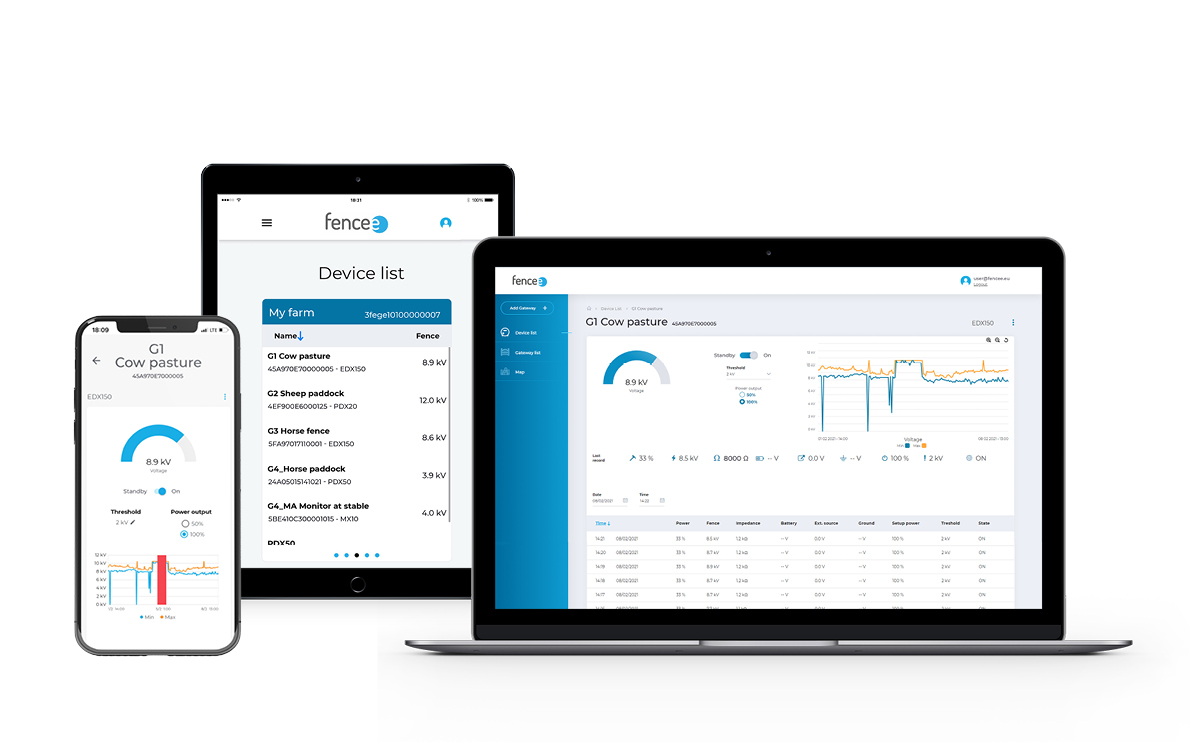 FENCE WiFi GATEWAY GW100 - Central device of a smart farm
The heart of the modern smart farm fencee is the central device FENCE WiFi GATEWAY GW100. It remotely checks and controls energizers and control monitors, which are placed on your fences. The gateway is connected through Wi-Fi to the cloud, which is a secure place on the Internet through which all paired devices communicates with each other. Cloud collects data from all energizers and control monitors and sends instructions from the user back to the central gateway. From anywhere in the world, you can share data with other users, control, set and manage parameters on electric fences. Standard range of the gateway to the energizers is up to 10 km, but this distance can be extended to a range of up to 30 km with an external antenna. Whether you need to protect and control your animals, harvest or grounds, thanks to this modern technology you will build a modern and interactive electric fencing.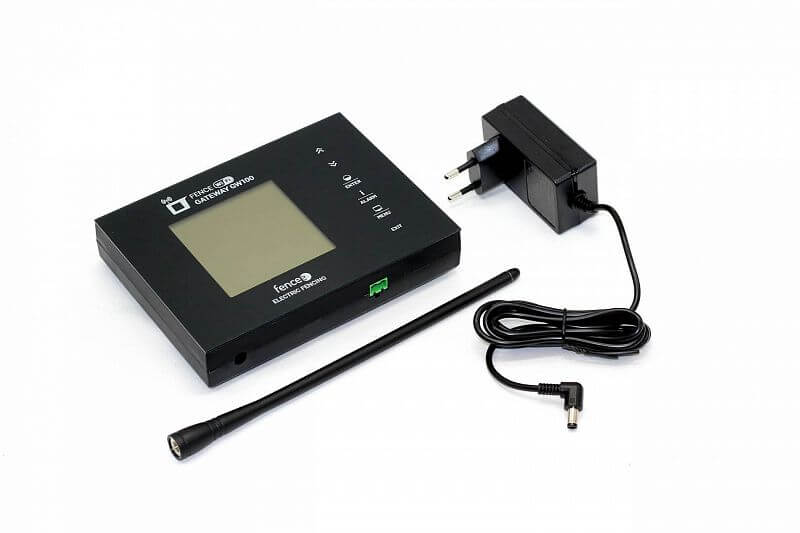 Which energizers can be paired with the central gateway?
For the purposes of the new modern smart farm fencee, we have developed a completely new unique range of powerful combined energizers fencee energy DUO RF EDX with an output of 8 - 15 J. These high-performance energizers are suitable for very long electric fences and fences burdened with vegetation. They are designed for all animals, including the young. Thanks to the integrated special yellow clip, you can reduce the impulses to about half the power to the lower conductors of the fence. These energizers for electric fencing serve for protecting not only animals but also harvest and grounds from pests and predators. Through the fencee Cloud, it is also possible to control the previous series - fencee power DUO RF PDX energizers with an output of 1 - 7 J. All listed sources are combined. Can be supplied from both a 230-V network or an ordinary 12-V auto battery, which can also be used as a back-up source.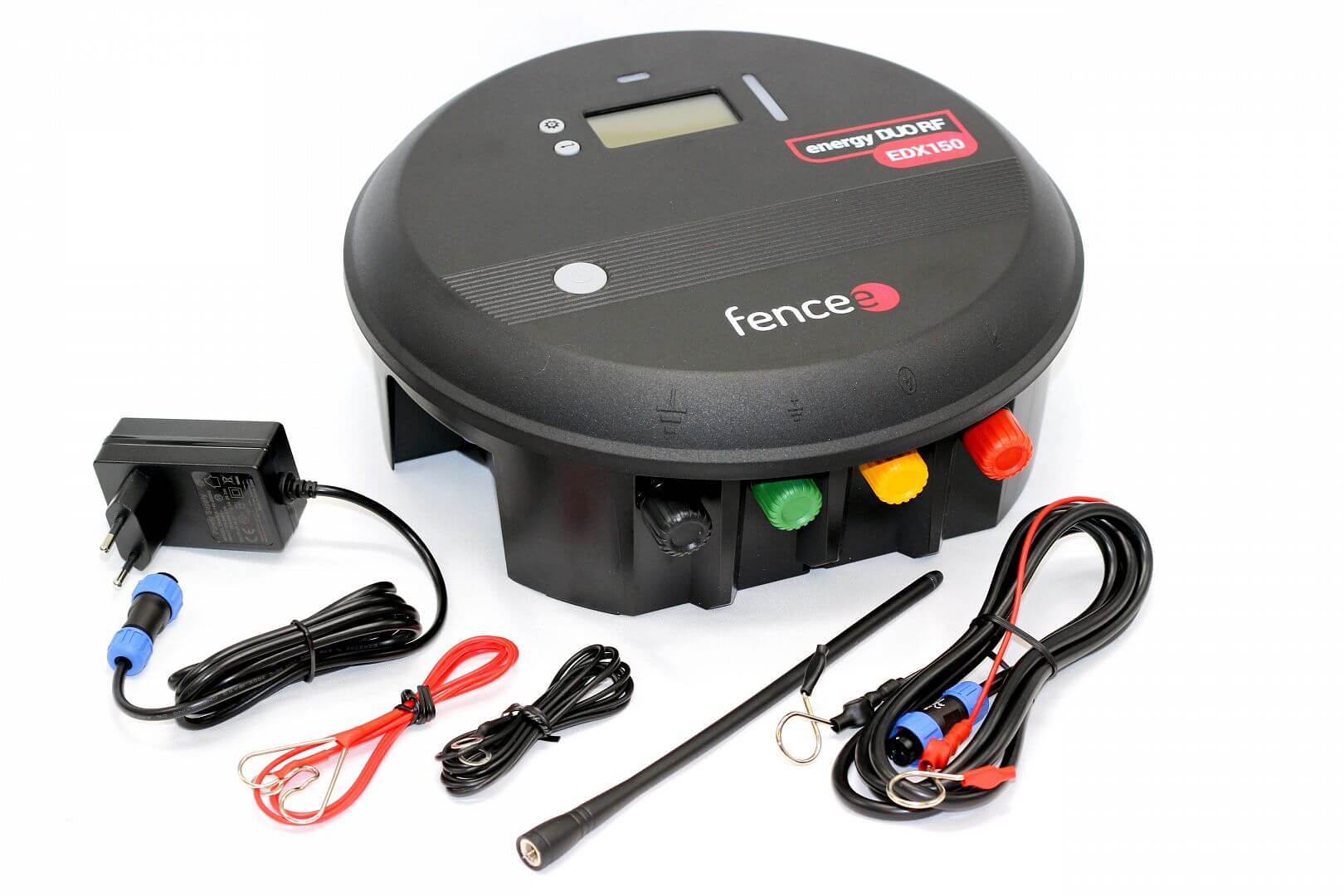 What does the Monitor MX10 check?
If you have your fences in terrain that is burdened with vegetation, forest and water vicinity, the Control Monitor MX10 monitors the entrances exactly in these critical places. It immediately informs you through a central gateway about a possible voltage drop. You will receive warning alarm to your phone and e-mail within a few seconds. Use the fencee Cloud app to conveniently switch off the power supply to the fence remotely and put it back into operation once the fault has been repaired. In case of repair of a damaged fence, a tester will be useful for measuring the values around the repaired places. You can also place control monitors at the entrance to the gates of your fences. If the gate handle hook is disconnected, the eye remains without voltage and the monitor evaluates the situation and sends an alarm to the gateway. Your electric fencing is then protected even from unwanted guest.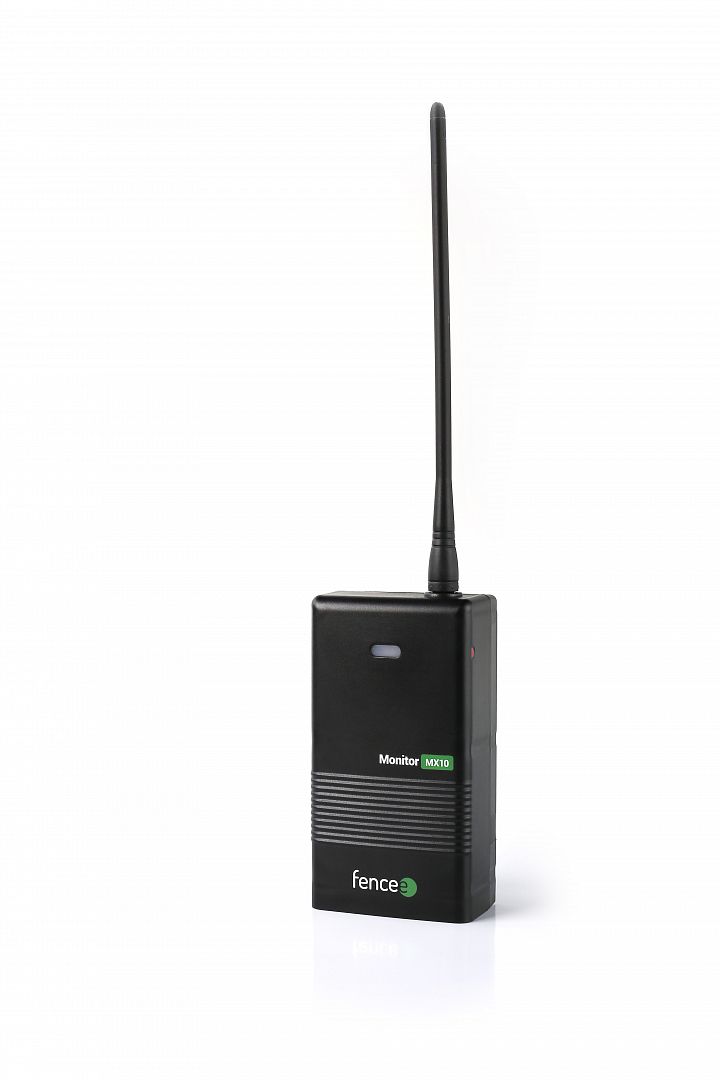 What possibilities and advantages does a modern smart farm fencee bring?
This unique cloud fence technology saves maximum time since you no longer have to walk around the fences. Saves your costs, because the entire system works without SIM cards. The fencee Cloud application is completely free with no limit on the number of devices. The application is easy to use and you can use it to:
check online current information on all paired devices
depict the course of measured values over the last 7 days thanks to well-arranged graphs
display the lists of all connected devices
monitor and set up values, such as the battery, voltage, grounding quality, and output, and switch on individual devices
set the limit values for triggering alarms on individual fences
receive immediately an online alarm into your mobile phone and e-mail in the event of an exceptional breakdown situation
Modern Smart Farm User Reviews
"My parents have reached the age when they appreciate not having to go check the fencing every morning. If there's a problem, the gateway triggers an alarm, which I consider as the biggest advantage."
Pavlína N., Lhota u Vsetína
"I've got the gateway at home, as the central control and alarm. I have the control with me all the time when moving outside around the fencing. I consider as a big advantage that I don't have to pay for SIM cards."
Petr B., Litoměřice
"I've got 3 fences connected to the gateway, so I keep track of all of them at the same time and save a lot of time. Before that I had to go check the fencing. Now I know immediately if anything goes wrong."
Adam M., Beskydy
Watch a video of how fencee Cloud works
This video will show you how the new fencee Cloud application for controlling electric fencing from anywhere in the world works:
If you have any questions, please contact our technical department info@fencee.eu. We will be happy to advise you.